About BPPR
At BPPR, we know that getting the right information into the right hands at the right time is crucial to garnering meaningful, successful results. Our working knowledge of newsrooms and editorial calendars, combined with key media relationships, ensure the maximum positioning of your story. Let our experience, creativity, and dedication work for you.
Staff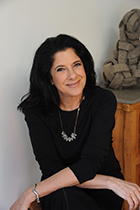 Barbara Pressman - President
Barbara Pressman has practiced marketing and public relations for the architecture and design professions for 25 years, devising strategic and long-term campaigns that have set her clients apart in a saturated media marketplace by capitalizing on their strengths.
She has conceptualized, planned and implemented marketing and media strategies for dozens of firms during her career, helping them achieve global exposure and opening new markets for their practice.
Apart from her public relations expertise, Barbara's high-level managerial experience has given her insight into the workings of a profitable business. She shaped the marketing program and launched the first-ever expo for landscape designers at the San Diego Design Center. She also ran diGiacomo, Inc., an international design and manufacturing company, overseeing its day-to-day operations and profitability. Barbara's proven marketing savvy enables her to build complementary public relations strategies for her clients that result in memorable campaigns.
Barbara has provided PR services to architects Gonzalez Goodale Architects, Landry Design Group, Robert Hidey Architects and The Architecture Studio; non-profit housing developer Abode Communities; design builder Lazar design/build; landscape architects ahbé Landscape Architects, TGP, Inc., and Melèndrez Associates; interior designers Plum Design West, Salamoff Design Studio and Cheryl Rowley Design, among others. She has also lent her expertise to education, arts and public health non-profit organizations whose missions align with her personal values.
Lectures about marketing and public relations for designers at the UCLA Extension, as well as before professional meetings held by the American Institute of Architects, the Asian American Architects and Engineers Association and WestWeek, an annual meeting of interior designers, have also given Barbara an opportunity to share her wealth of experience and practical knowledge in the field.
Barbara holds a Bachelor of Arts degree in English from the University of Connecticut. Her love for art and architecture, paired with her passion for international travel, continually inform and enrich her career as a public relations professional in the architecture and design fields.
Megan Pompan - Account Coordinator
Megan Pompan, who holds a B.A. in Communications from the University of California, Santa Barbara, has served as Account Coordinator since 2012, assisting in all of the firm's public relations campaigns, from securing press coverage in international luxury consumer magazines for the firm's design clients to publicizing a public forum of mayoral candidates about affordable housing at Our Lady of the Angels Cathedral in Los Angeles. She creates and updates client websites to sustain their brands. She is an expert in social media with experience in developing and launching creative websites for companies.
Services
Award Submissions
Branding and Image Management
Bylined Articles
Communications Plans
Editorial and Op-Ed Writing
Event Planning/Publicity
Expert Positioning
Government Relations
Media Relations
Public Affairs
Press Conferences
Press Materials
Professional Writing
Social Media

Speakers Bureau
Strategic Communications